VELEX TRIKE SPIDER
CONSTRUCTION
The vehicle is based on a steel frame. The arrangement of two front wheels and one rear wheel guarantees comfortable handling (in the reverse situation you have to drive on the so-called "stiff hands"). A double sofa and four footrests respectively provide comfort for both the driver and the passenger.

DRIVE AND BRAKING
The VELEX SPIDER vehicle drive is provided by an electric motor with a peak power of 14kW, which allows to reach 18 HP. It drives the front wheels. Moving the drive to the front wheels with which we drive guarantees high driving comfort.
Disc brakes on all 3 wheels are necessary because the total weight of the vehicle is approx. 400 kg. The parking brake blocks the rear wheel
BATTERY
The power of the engine and the entire system is covered by a huge 72V / 80Ah battery which gives as much as 5760Wh. For charging, we use a mains charger connected to a normal 230V AC outlet. The battery charging time is approx. 6 hours
LIGHTING

The vehicle has full lighting. Position lights, LED low beam and LED high beam. The rear brake light comes on when braking. Installing additional LED lights on the front wheel mudguards improves our safety during night rides. Direction indicators located at the front and rear of the vehicle are activated with one finger, which is additionally confirmed by an audible signal which stops when the signaling is turned off.



PERFORMANCE
Maximum speed - up to around 80 km / h
Range on one charge - approx. 100 km
Maximum power on wheels - 18 hp
Maximum torque - 81 Nm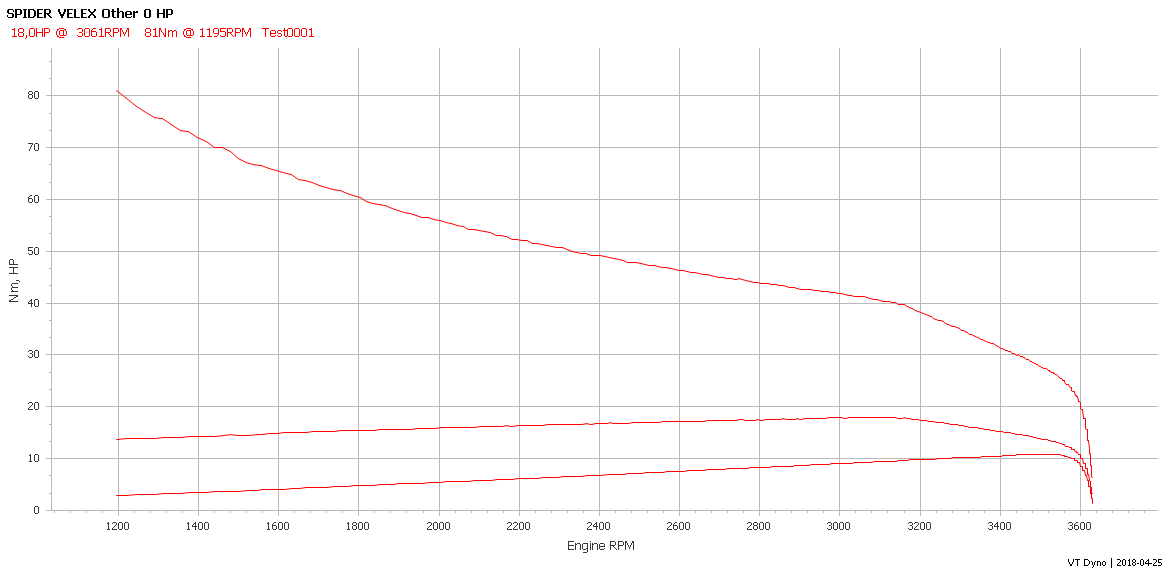 The VELEX SPIDER vehicle parameters measurement plot from the dynamometer
The VELEX trike SPIDER three-wheel electric trolley is incredibly lively, thanks to 81 Newton meters of power. Driving a vehicle is a great pleasure. In addition, because we are dealing with an electric motor, this torque is already available at low revs. The range of up to 120 km will allow you to enjoy traveling in the city for long hours.
By dedicating on SPIDER riding, you can be sure that you will attract the jealous glances of other road users, as well as pedestrians. A weekend trip to the lake, to a forest hut or to a picnic in a meadow under the city, along with our tricycle will be an unforgettable experience, and the two-person construction will make it possible to share these beautiful moments also with the passenger.
The VELEX brand is not only an online store. You can see SPIDERA "live" in our Electric Vehicles Salon. You can also arrange a test drive.